Hair Tips: How to Get Massive Volume!
Like Hair Scrunchies, Puffy Sleeves, Mom Jeans, And Floral Patterns From The 80'S, Big Hair Is Back! But Have We Forgotten The Ancient Secrets To Volume? Or, Perhaps There Is A Better Method Than The 80'S Perm To Achieve All The Body You Want!

But first, what not to do when trying to get more volume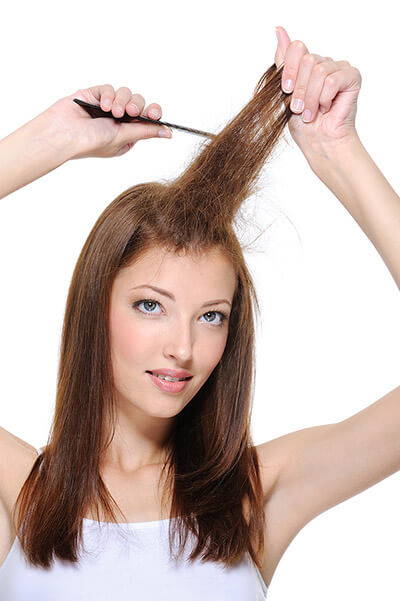 Backcombing - Don't Do It!
Resist The Urge To Backcomb! Teasing, Or Backcombing, Is Very Harmful To Hair. In A Healthy Hair Strand The Protective Layer, Or Cuticle, Consists Of Overlapping Cells That Look Like Fish Scales, All Pointing In The Same Direction.
These Cells Are Like Hair's Armor, Protecting Its Core. Teasing Or Backcombing Goes Against The Direction Of The Cuticle Cells, So The Action Can Create Damaged Hair Or Completely Strip Cuticle Cells From The Hair Fibre. Over Time Hair Is More Prone To Frizziness, Breakage, Heat And Chemical Damage.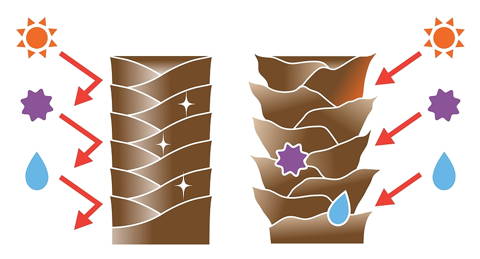 1. Switch Your Part
Consider Changing Your Part Up From One Side To The Other, To The Middle, Or Try To Let Hair Fall Naturally, Rather Than A Defined Part. After Years Of Being Flattened In The Same Direction, A Switch Will Help Lift Your Hair Away From Your Scalp And Make The Top Of Your Head Look Like It Has More Body And Volume.
2. Blow Dry Upside Down
Put Away The Round Brush Until After You Have First Blow-Dried The Roots While Upside Down. This Way The Roots Of The Hair Are Trained To Stand Perpendicular To Your Scalp, Rather Than Laying Flat Against It.
3. Mouse The Roots
Before You Blow Dry, Use A Good Volumizing Mousse In The Roots Of Your Hair. This Will Help Hold The Hair Away From Your Scalp And Will Increase Body From The Roots Outward.
4. Add Volume To Your Roots With A Volume Iron
This is a total game-changer! It's not a curling iron. It's not a flat iron. A volume iron is designed specifically to add huge volume to hair. Once you've used this you'll see that you've never seen your hair look so full, bouncy and voluminous! Especially if you have fine, thin or aging hair, this is perfect tool for you! When used in the under-layers of hair, a volume iron creates hidden volumizing structure that lift the top layers up and away from the scalp.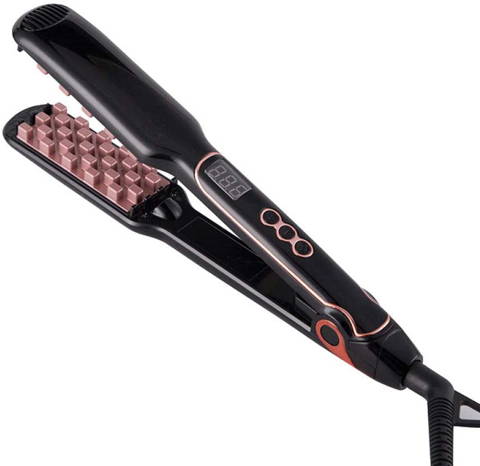 Want to see it in action?! Check out these tutorials!
5. ROBE Curls! (Heatless Curls)
Robe Curls Are All The Rage On TikTok Right Now And For Good Reason. Anytime You Can Give Your Hair A Heat Break It's A Plus For Your Hair Health. With Rope Curls You Not Only Give Your Hair A Heat Break, But You Achieve Gorgeous Full Body Curls!
Bathrobe Curls Involves Splitting Your Hair Into Two Sections And Twisting Each Side With Your Bathrobe Belt. After Sleeping On It Overnight, Take The Bathrobe Belt Out Of Your Hair And You Should Be Left With Swishy Curls Or Waves. Check Out The Tutorials Below For Short Hair Or Long Hair.
6. Add Volume With Clip In Hair Extensions
Clip Ins Aren't Just For Adding Length. They Are An Excellent Way To Add Volume Too! In Fact, Some People Don't Bother To Add Any Extra Length Whatsoever. A Good Clip In Comes In Various Lengths So You Can Choose A Length To Simply Add Volume Or One To Add Both Volume And Length.
What To Look For:
The Key Is To Look For Real Human Hair Extensions. If They Don't Say 'Real Human Hair', Chances Are They Are Synthetic, Which Means You Won't Be Able To Use Heat When Styling. They Also Won't Hold Up To Much Wear And Tear And Are Likely To Become Frizzy Quite Quickly.
7. Sleep in a Bun
Don't Knock The Scrunchie. It's Super-Useful For This Overnight Volume Cheat—No Heat Required! After Showering At Night, Pull Hair Up Into A High, Loose Bun While It's Still Damp, And Secure With A Soft Elastic (Tight Plastic Ones May Create Creases). Your Hair Will Dry Lifted Off The Scalp, So When You Wake Up And Take It Down, You'll Have Insta-Volume, Plus Soft Waves.
There you have it... 7 ways to hair as big as the 80's! Have tricks and tips of your own? Comment below, and share your tips with others!